Company Profile
Changhong IT (Stock code 3991.HK)
Changhong IT is a state-owned listed company in Hong Kong (stock code 3991.HK). oriented in a new-type ICT comprehensive service provider. It's a professional ICT solution service provider and product distributor that integrates and optimizes global resources, and also an intelligent terminal products manufacturer and service provider.
With the business philosophy of being a good partner, helping with improvement and support success, Changhong IT providing highly efficient comprehensive and professional services for partners in domestic, foreign, other industries and customers by virtue of professional marketing services and solutions, independent intellectual property proprietary equipment and diversified products to help partners and customers grow and succeed.
In the professional ICT product distribution and solution service field, Changhong IT is a well-known domestic distribution service provider with an innovative concept and fast growth speed in the industry, ranking at the forefront among domestic distributors. Changhong IT integrates international technologies and product resources. It provides partners with professional solutions and ICT products with applied technologies and high cost performance relying on its technologies, resource integration capacity and service ability. It is gradually promoting its marketing experience to products in other fields. It is committed to becoming a professional big data and cloud computing comprehensive service provider and a distributor with a ranking at the forefront among partners.
In the field of intelligent manufacturing, Changhong IT is a professional all solutions provider for product research and development, manufacturing, operation, maintenance and delivery. The intelligent manufacturing business focuses on technologies, products and applications in IOT and artificial intelligence field, providing a variety of one-stop IoT accessed smart terminal products and services.
Business Structure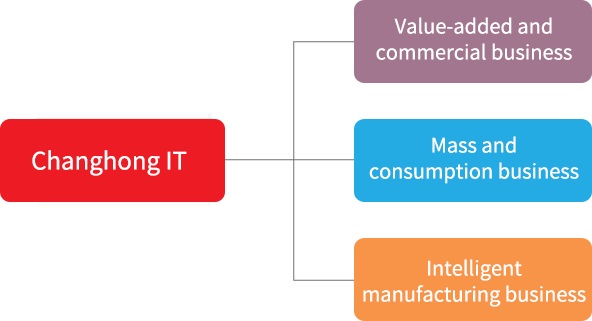 Competitive Advantages